Secrets of flying
The airline passenger's 101
How are airline crew trained?
Why is the safety demonstration before a flight so extensive?
Why is turbulence sometimes encountered during flight?
Why is an aircraft the safest means of transportation?
This workshop consists of interesting information for everyone who wants to use the unique opportunity to take a look behind the scenes.
Frequent flyers, vacationers, people interested in flying, aswell as passengers who board an aircraft with a certain feeling of insecurity find an opportunity in this workshop to do practical training in simulators. In the process they have the chance to have their questions answered.
During this event you will be accompanied by professionals who have ample experience in the area of specific flight training.
Program and basic information
Workshops 2019:
5th of May 2019: 02.00 p.m. - 06.30 p.m. (Status: Date expired)
23rd of June 2019: 02.00 p.m. - 06.30 p.m. (Status: Date expired)
13th of October 2019: 02.00 p.m. - 06.30 p.m. (Status: Date expired)

Workshops 2020:
3rd of May 2020: 02.00 p.m. - 06.30 p.m.(Status: Bookable)
18th of October 2020: 02.00 p.m. - 06.30 p.m. (Status: Bookable)
Location:
Vienna Airport/Vienna Aviation Campus. For a detailed way description please click here!
Costs per person:
EUR 149,00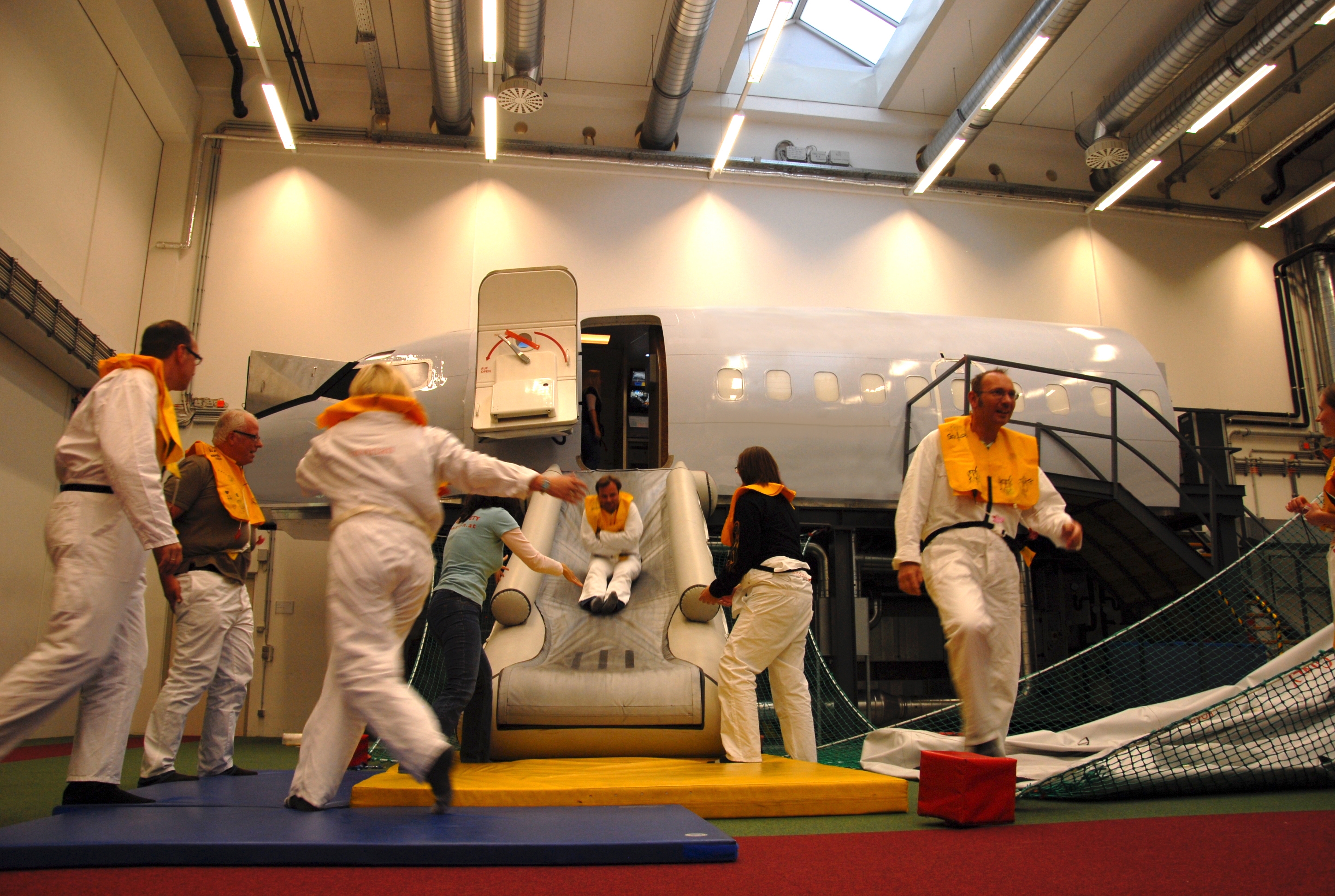 Course Language:
English and/or German
Number of Trainers:
2 Trainers
Deadline for registration:
1 week before the respective workshop date
Maximum number of participants:
15 per Workshop
Binding registration:
Kindly fill out the registration form! We are looking forward to welcoming you!
Program:
Practical exercises in a cabin simulator
Practical training of the elements & contents of the safety demonstration: Seat Belt, Oxygen Mask, Location of the Emergency Exits
Practical training of life vests
Practical opening of overwing emergency exits
Practical slide training
Background information about initial aircraft certification procedures
Group dynamic aspects of aircraft evacuations
Background information about turbulences (appearance, significance & safety aspects)
General conditions for participation:
Minimum age requirement: 18
Physical and mental ability to perform practical exercises in the cabin simulator
No claustrophobia (the main part of the training is performed in an enclosed environment (cabin simulator)
Kindly note, that pregnant women are not allowed to use the cabin simulator
No fear of flying (this is not a seminar against fear of flying)
ASN is pleased to announce the cooperation with Austrian Airlines Group by assisting during the simulator sessions in the courses against fear of flying.
These seminars are accompanied by psychologists: For further information concerning seminars against fear of flying please follow this link.
What to take along:
The practical training is performed without shoes. Please bring an extra pair of socks
Please wear comfortable clothes
A valid photo ID for the entry at the main entrance
General information:
indoor exercises only
no outdoor exercises
If you have any questions concerning the Workshop, please do not hesitate to contact us!
Prior to the training participants are required to read and sign a liability waiver! Should you like to see a preview of this waiver please click here!
Workshops for individual groups/incentives can be booked at any time - please do not hesitate to contact us!
For nonbinding inquiries please click here!
ASN reserves the copyright for design and contents of this workshop. Pictures/ Reference: Austrian Wings