Passenger Workshop: Ditching
Lessons we learned from the Hudson River Accident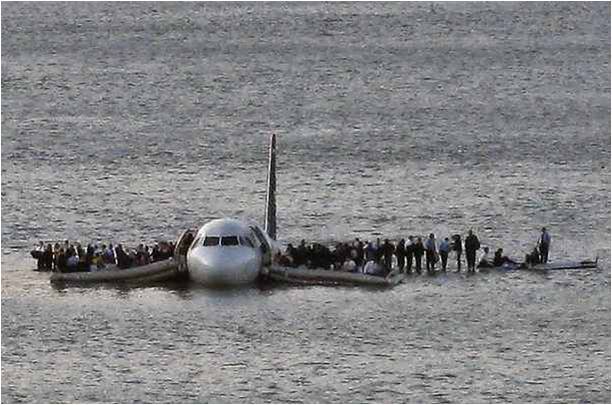 On the 15th of January 2009, 150 passengers and 5 crew on an Airbus 320 take off on their flight from La Guardia to Charlotte. The aircraft belonging to US Airways is climbing to ist cruising altitude when the engines suddenly go silent and everyone aboard holds their breath.
The crew quickly recognizes: The aircraft has collided with a massive flock of birds - both engines have failed. For Captain Sullenberger and his Copilot Jeff Skiles the next minutes are unforgettable: Next to working the checklists and talking to Air Traffic Control they are now piloting an aircraft that is gliding without engines.
5 minutes and 8 seconds later they hit the water.
Because the Airbus is gliding over inhabited areas and the next landing field cannot be reached without engine thrust, Captain Sullenberger decides to ditch on the Hudson River. Everyone on board is evacuated. 4 passengers suffer minor injuries, one flight attendant suffers a major injury on her leg. Only 5 passengers have donned their life vests when rescue services arrive and start rescuing the first passengers.
This accident has lead to discussions worldwide on the topic of Bird Strike/Engine Failure and Ditching. No international conference, no safety training in 2009 went by where the performance of the crew and the technical aspects of this case were not discussed.
As in years passed we can gain insight from this accident.
But what can passengers learn from this experience?
Is a passenger able to influence a situation like this one?
Yes, he can.
This is not only confirmed by international investigations into accidents, but also by passengers who have visited our workshop "Secret of flying". The passenger can influence an unplanned situation on board and aircraft positively by his training and knowledge, but also negatively through ignorance.
Only 5 passengers on the US Airways Flight had donned life vests. Because of good circumstances most passengers were able to stay dry in the rafts or on the wings. What would have happened if the wind and the weather had played by different "rules" on the 15th of January 2009? What if the aircraft had not been carrying life rafts?
The part of the accident investigation report concerning passenger and crew behavior is 186 pages long.
We want to pass on our insight and give you practical training - getting home safely for the passengers on US 1549 on the 15th of January had to do with more that just the knowledge that life vests on board were yellow.
Visit our workshop and get the chance to try life vests and rafts during a ditching training in the pool.
Program and general information about this workshop
Dates 2020:
- 20th of June (Status: Bookable: Required minimum Number of participants in total: 10 persons)
Time:
08.00 am to 05.00 pm (Welcome desk opens at 07.00 am)
Location:
Part 1: Vienna Airport/Vienna Aviation Campus
Part 2: Pool in Schwadorf (Transportation to on from the pool is organized and included in the price)
Language:
German (English if required)
Price:
EUR 249,00 per person
Excorted by:
Flight Safety experts and instructors as well as life guards.
Instructors:
4
Deadline for registration:
1 week prior commencement of course
Max. amount of participants:
37 Persons
Program: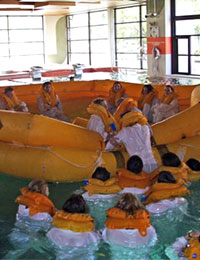 Introduction to the topic of ditching: Statistics on survivability
Presentation about "Aircraft Dichtings" by Cpt. Christian Korherr
Video interview of the Crew/Hudson River
Discussion of the final report and information relevant to passengers
Aspects of group dynamics and stress management
Session in the cabin simulator
Training on how to use life rafts
Transportation to the pool
Practical ditching training in the pool
Requirements:
Min. age: 18 years
Max. age: /
Physical and mental fitness is requirement for the practical training
Unlimited physical mobility
Kindly note, that pregnant women are not allowed to use the cabin simulator
No claustrophobia (A part of the training will be inside a closed aircraft cabin)
Ability to swim (basics are sufficient)
No fear of flying (This training is not a fear of flying workshop!) For information about "The joy of flying" click here.
No allergy to chlorine
What do you need for the training:
For part 1: Comfortable clothing, an extra pair of socks, since practical training is done without shoes
For part 2: Bathing suits or shorts, clothing to wear over the bathing suits which can get wet (T-shirt and sweat pants)!
Towels
Hair dryer (there is only a limited amount of hairdryers available at the pool)
A valid ID
General information:
Indoor exercises
No outdoor training, therefore the workshop is independent of weather conditions
The training in the pool includes the use of life vests, aircraft slides and life rafts. It is likely that during the training heads/hair will get wet.
Transportation to and from the pool is organized by ASN using a bus. This is included in the price.
We would ask for your understanding that if you use your own car to get to and from the pool, we cannot reduce the price for organizational reasons.
For further questions about this training please contact us!
Prior to the training participants are required to read and sign a liability waiver! Should you like to see a preview of this waiver please click here!
Workshops for closed groups can be organized individually at any time!
For a detailed way description to the trainings facilities please click here!
ASN reserves the copyright for design and contents of this workshop.