Projects
Barrier-free Air Travel for Kids with Disabilities: Project Dominik*
Air travel remains the most convenient way to get around large distances: A plane can cross borders with ease, and get us to our destination without the obstacles that we face traveling over land.
But what does this look when we are actually ON a plane?
Do all passengers have the same opportunity to safely get from point A to point B?
This question lies at the core of our work at Aircraft Safety Network, and it has led us launch a new project near and dear to our hearts.
Parents whose children have disabilities face numerous challenges when considering plane travel:
Travel logistics, trip planning, and ensuring all needed equipment is brought along or available at the destination are just a few puzzles that must be solved before a journey even starts.
During our many years of work in the airline safety field, we heard from parents who wanted to know what sort of seating options were available for young passengers with special needs.
Until now, only approved infant and toddler car seats were allowed on-board. There were no options for disabled children to fly both safely and comfortable.
For special needs travelers, "comfort" must equate with "pain-free": This fundamental truth had us searching for answers, and led to our new project:
Barrier-free flying for Special-Needs Kids
In 2012, a travel seat made by the British company Meru caught our attention:
Features of the seat include: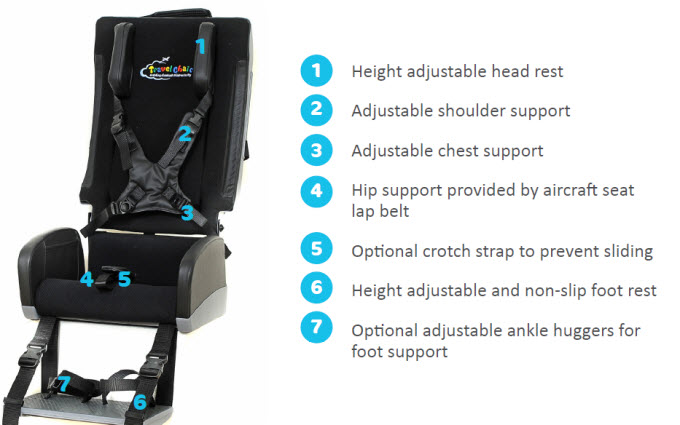 - EASA certification for the use on commercial aircraft
- For children ages 3-11, with maximum shoulder height (while seated) of 52 cm (20,5 in.) and a maximum weight of 35 kg (77lbs)
- Seat can be folded and stowed in the overhead compartment
- Seat weighs about 6 kg (13lbs)
- Built-in foot support
- Adjustable seatbelt system
- Height adjustable head rest and optional adjustable angle of slope
- Proper positioning for tube-fed children
- Changeable seat cover
In 2012, ASN has a Meru Travel Chair delivered to Vienna, and presented it to Austrian Airlines Group.
The presentations as well as the testing of the seat on aircrafts of the Austrian Airlines Group were successful:
We are delighted to celebrate a further milestone - another step in the direction of barrier-free traveling!
One chair costs 3,000 Euro, and while it is a fair price for such a high-quality product, it is nevertheless financially out of reach for many parents.
Our next goal: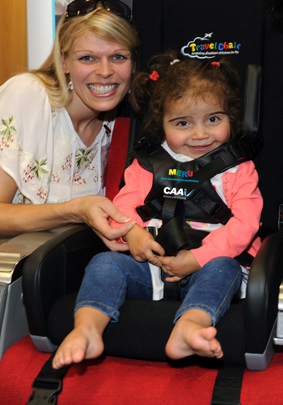 ASN will purchase a Travel Chair, and would like to establish a rental service for special needs families.
The rental of the seat would include:
- The opportunity for the family to try out the seat for free prior to travel
- The seat would be ready for pick-up in the vicinity of the Vienna Airport, to prevent unnecessary (and tiring) side trips
- Rental would be for the entire duration of travel.
Our primary vision is to rent the seat FOR FREE, because we believe that kids who tackle so many challenges every day more than deserve to be fully supported on their journeys.
Please join us in making this possible!
We have an opened account dedicated to project Dominik, and are greatful for any contributions, no matter how small:
Account: 40-00.120.063
Bank Code: 32250
IBAN AT69 3225 0040 0012 0063
BIC RLNWATWWGTD
We will keep all our customers up to date on Project Dominik via this link, and we can`t wait for the time when INSIDE of an aircraft will be able to cross barriers and borders with ease!
You can see more photos of the Meru Travel Chair in our Gallery!
We kicked-off our project with a charity event at the Vienna International Airport in december 2013: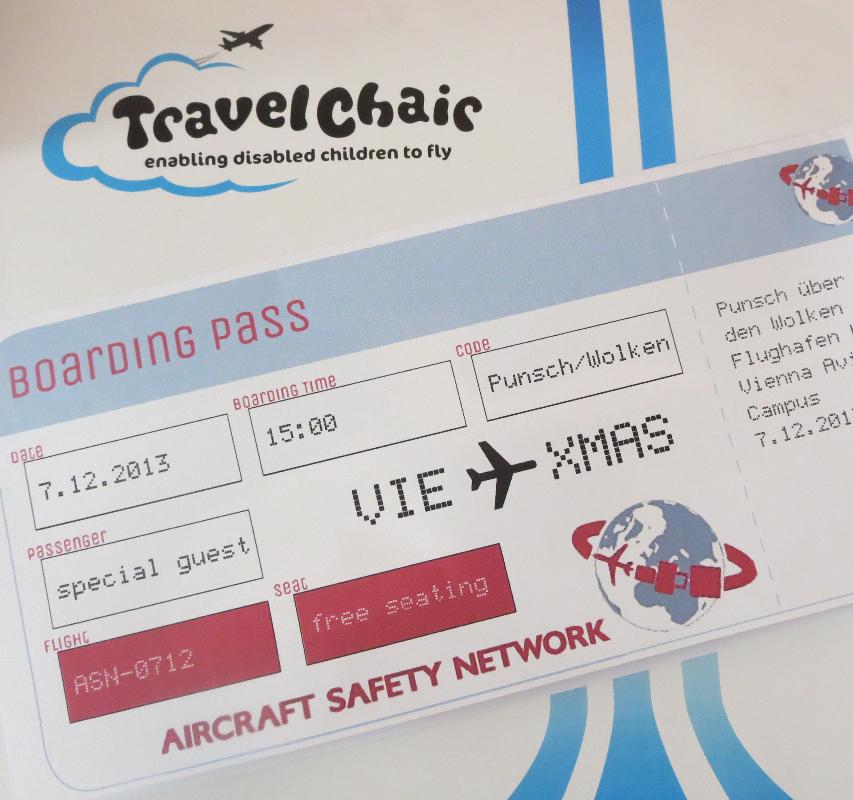 The motto was: "Christmas drink above the clouds" : A Christmas flight for a good cause.
Many thanks for making this event possible go to:
- Austrian Airlines Group for the sponsoring of the facilities
- The Meru Company for a no-red-tape loan of a Travel Chair
*This project is dedicated to little Dominik: We only had a few years to know each other, but those years are unforgettable.
B.Pencik